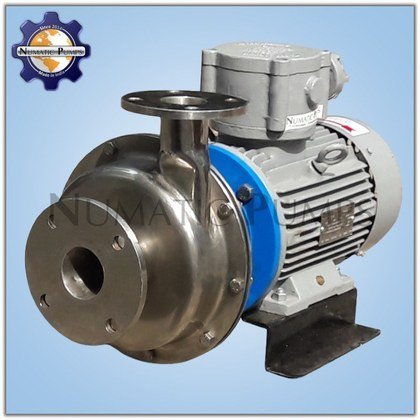 ● Max Flow – 50 Liter Per Minute
● Max Flow in Hours – 3000 Liter Per Hours
● Max Head – 4.5 Meter
● Pressure KG/CM2 – 30 LPM at 3 Meter.
● Inlet/Outlet – 12mm x 12mm
● End Connection – Threaded Type
● Max Temperature – 120° C.
● Motor Capacity – 0.30 HP
● Motor Specification – 1 Phase 2800 RPM 50Hz
● Amps & Watts – 0.50 / 224
● Casing, Back Plate & Impeller – Stainless Steel 316
● Stuffing Box & Shaft – Stainless Steel 316
● Sealing Arrangement – Sealless Pumps
1) All Prices are Excluding GST.
2) Transportation will be on To pay Basis.
Stainless Steel Magnetic Drive Pump

Magnetic Coupled Pumps have become the standard for applications requiring Leak resistant pumps. Our SS316 Magnetic Coupled Sealless Pumps designs offer a wide range of capabilities from compact configurations to large chemical process pumps. This broad range of magnetic Coupled Pumps capabilities is unmatched in the industry making the leader in Industrial Pump Market.
Our Product range includes Polypropylene and PVDF Magnet Coupled Sealless Chemical and Acid Pumps for Electroplating and Batteries Industries. "Magnetic Coupled Pumps" refers to the coupling between the wet end of the pump and the motor. In "direct drive" pumps, the impeller of the pump is attached to the shaft of the motor and this design depends on the Mechanical shaft seal.
In a magnetic drive pump, the wet end and motor are two separate parts, connected by a motor bracket. At the end of the motor shaft, a drive magnet is attached, and as the drive magnet rotates around the rear housing, the impeller, which is fixed upon another magnet, spins in synchronization. It is the attraction of the drive magnet and the impeller magnet which allows the full torque of the motor to be passed onto the pump. As the shaft of the motor does not extend into the pump there is no need for a shaft seal. Thus without a shaft seal, the danger of leakage commonly associated with a shaft seal is eliminated. Furthermore, the maintenance cost is reduced because no time or money is spent on maintaining the shaft seal.