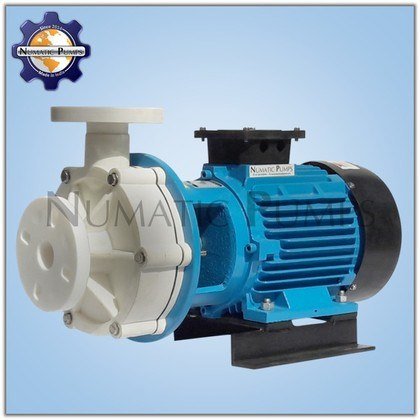 ● Max Flow – 250 Liter Per Minute
● Max Flow in Hours – 15000 Liter Per Hours
● Max Head – 14 Meter
● Capacity – 14 Cubic Meter
● Inlet/Outlet – 32mm x 32mm
● End Connection – Threaded Type
● Max Temperature – 100° C.
● Motor Capacity – 1 HP
● Motor Specification – 3 Phase 2800 RPM 50Hz
● Casing, Stuffing Box & Impeller – PVDF
● Shaft – SS316 with Ceramic Sleeve
● Mechanical Seal – Teflon Bellow Multi Spring Seal
● Face – Metalic Carbon Vs Ceramic
1) All Prices are Excluding GST.
2) Transportation will be on To pay Basis.
PVDF Monoblock Pump is optimum for Acid and High Temperature Corrosion Chemicals. These Chemical Pumps are Designed and manufactured to transfer a variety of liquids range like corrosive acids, alkalies, and solvents. These Pumps are also recommended in Chemical, Petrochemical, Refinery, Power Generation, Oil Extraction, and Pharmaceutical Industries. The Sanitary Fitting and Construction Form High Grade – Pressed Polyvinylidene Difluoride (PVDF) ensures smooth and even transfer of liquids. Highly lapped and finished Mechanical Sealing System ensures leak-proof working. The liquid does not react with the metals or inside environment of the pump, which ensures the safety of Media. These are very easy to install. These are manufactured from optimum quality metals, which ensure its high resistance against various liquids and ensure safe usage.
Our Product range includes solid injection molded Polypropylene (PP) and Glass Filled Polypropylene (GFP) pumps, PVDF lined pumps. Today we are leading manufacturer and Supplier of PVDF Monoblock pumps in India. PP / PVDF -series pumps. These Pumps are specially design for highly corrosive chemicals in which metal pumps are not recommended for a higher cost.
This pumps design are single piece molded polypropylene and PVDF volute casing with a semi-open impeller to ensure smooth running performance. The high alumina ceramic sleeve protects shaft from any corrosion and abrasion. The GFT or Sic Vs. Ceramic PTFE below Mechanical seal prevents the leakage from the pumps. The Cast Iron heavy duty oil lubricated bearing housing provide maximum strength to pump. These pumps are also available in Centrifugal version with a compact design. The PVDF series pump thick walled casing liner & back plate is made of PVDF. A large metal insert in PVDF impeller increased mechanical strength.