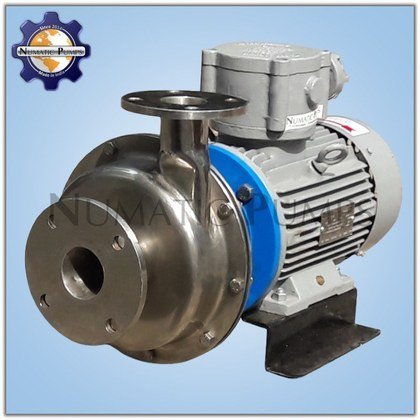 ● Max Flow – 85 Liter Per Minute
● Max Flow in Hours – 5100 Liter Per Hours
● Max Head – 9.5 Meter
● Pressure KG/CM2 – 40 LPM at 3 Meter.
● Inlet/Outlet – 32mm x 25mm
● End Connection – Threaded Type
● Max Temperature – 120° C.
● Motor Capacity – 0.50 HP
● Motor Specification – 1 Phase 2800 RPM 50Hz
● Amps & Watts – 0.50 / 224
● Casing, Back Plate & Impeller – Stainless Steel 316
● Stuffing Box & Shaft – Stainless Steel 316
● Sealing Arrangement – Sealless Pumps
1) All Prices are Excluding GST.
2) Transportation will be on To pay Basis.
SS316 Magnetic Drive Pumps
We are one of the Leading Magnetic Drive Pumps Manufacturers, Suppliers, Wholesalers, Exporter in India and Abroad. We have captured whole Indian Market from Mumbai to Kolkata, Chennai to Delhi.
Magnetic drive pumps are designed to be driven by the force of Magnets. Because of this, Pumps of this kind do not have the Shaft coming out of the Pump casing, hence there is no need for shaft sealing devices such as Gland Packing or Mechanical seals.
With Magnetic Drive Pumps, an external magnet is placed on the drive shaft and responsible for transmitting motion to an internal magnet that connects to the Impeller. Impeller rotates and moves fluid through the Pump. Both magnets are separated by a rear casing that creates what is known as a hermetic containment of the liquid with no access to the outside.
Besides Stainless Steel we also Provide Magnetic Drive Pump in Polypropylene and PVDF Material also.