PP Centrifugal Pump PPC-0.5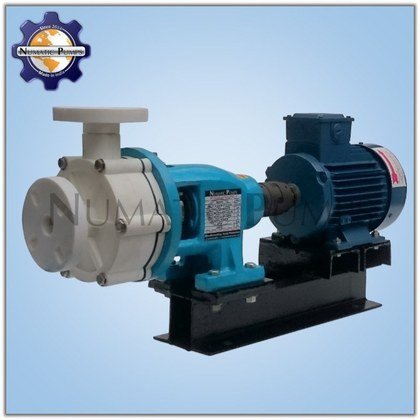 ● Max Flow – 120 Liter Per Minute
● Max Head – 8 Meter
● Capacity – 7.2 Cubic Meter
● Inlet/Outlet – 25mm x 25mm
● End Connection – Flanged Type
● Max Temperature – 70° C.
● Motor Capacity – 0.5 HP
● Motor Specification – 3 Phase 2800 RPM 50Hz
● Casing, Stuffing Box & Impeller – Polypropylene.
● Shaft – SS316 with Ceramic Sleeve
● Mechanical Seal – Teflon Bellow Seal
● Face – GFT / Ceramic.
1) All Prices are Excluding GST.
2) Transportation will be on To pay Basis.
3) Price for Bare Pump without Motor.
Commonly used in Chemical and Acid Application
Chemical and Acid Pumps are most significant in safety of the surrounding workforce by preventing exposure of the fluid directly or by the fluid vaporizing. When the Chemical and Acid Pump leaks, Sulphuric Acid, Hydrochloric Acid, Nitric Acid and all such Acids may also react with exposed metal, releasing toxic fumes. Sulphuric Acid is extremely poisonous and attack the respiratory system, the eyes, nervous system, teeth and the circulatory system.
Although Sulphuric Acid (H2SO4) is non-flammable in its natural state, the formation of hydrogen gas can be extremely dangerous. The hydrogen gas can form where the corrosion of metallic parts, water ingress (such as valves, boilers, absorption systems etc.) and Sulphuric react to form the gas. The gas eventually accumulates in 'pockets' or stagnant areas of the system and creates a potential risk of explosion. So to avoid the danger to health and Envoirment this Acid and Chemical Pump work as a life line and reduces lots of handling, Circulating and Transferring Headache.