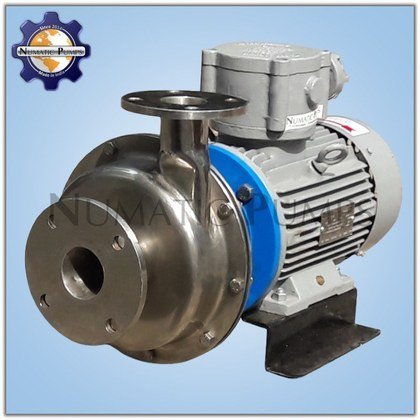 ● Max Flow – 150 Liter Per Minute
● Max Flow in Hours – 9000 Liter Per Hours
● Max Head – 14.5 Meter
● Standard Duty Point – 50 LPM at 10 Meter.
● Inlet/Outlet – 32mm x 32mm
● End Connection – Threaded Type
● Max Temperature – 120° C.
● Motor Capacity – 1 HP
● Motor Specification – 3 Phase 2800 RPM 50Hz
● Amps & Watts – 1.70 / 746
● Casing, Back Plate & Impeller – Stainless Steel 316
● Stuffing Box & Shaft – Stainless Steel 316
● Sealing Arrangement – Sealless Pumps
1) All Prices are Excluding GST.
2) Transportation will be on To pay Basis.
We are Leading Magnetic Drive Pumps Manufacturers, Suppliers, Wholesalers, Exporters in India and we have a Large Network around all Major Indian Cities like Mumbai, Delhi, Bangalore, Hyderabad, Ahmedabad, Chennai, Kolkata, Surat, Pune, Jaipur, Lucknow, Kanpur, Nagpur, Indore, Thane, Bhopal, Visakhapatnam, Pimpri & Chinchwad, Patna, Vadodara, Ghaziabad, Ludhiana, Agra, Nashik, Faridabad, Meerut, Rajkot, Kalyan & Dombivali, Vasai, Virar, Varanasi, Srinagar, Aurangabad, Dhanbad, Amritsar, Navi Mumbai, Allahabad, Ranchi, Haora, Coimbatore, Jabalpur, Gwalior, Vijayawada, Jodhpur, Madurai, Raipur, Kota, Guwahati, Chandigarh, Solapur, Hubli and Dharwad.
Our network has Tremendously Expended in last two years from India to almost all Continent in Gulf, Africa, Europe & America. and Looking Forward to Expanding our Business from Magnetic Drive Sealless Pumps to all Industrial Pumps Like Diaphragm Pump, Barrel Pump, Dosing Pump, Horizontal Centrifugal Pumps, Dairy & Sanitary Pumps.