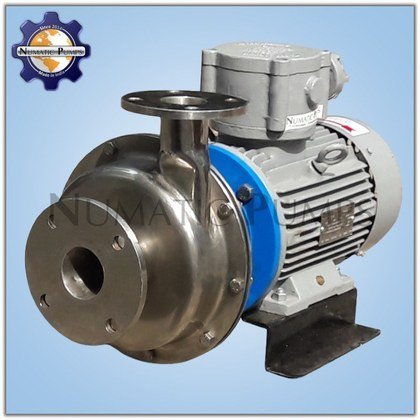 ● Max Flow – 950 Liter Per Minute
● Max Flow in Hours – 57000 Liter Per Hours
● Max Head – 40 Meter
● Standard Duty Point – 650 LPM at 30 Meter.
● Inlet/Outlet – 76.2mm x 76.2mm
● End Connection – Flange Type
● Max Temperature – 120° C.
● Motor Capacity – 10 HP
● Motor Specification – 3 Phase 2800 RPM 50Hz
● Amps & Watts – 16.94 / 7457
● Casing, Back Plate & Impeller – Stainless Steel 316
● Stuffing Box & Shaft – Stainless Steel 316
● Sealing Arrangement – Sealless Pumps
1) All Prices are Excluding GST.
2) Transportation will be on To pay Basis.
Our Pumps are Mainly for Corrosive Resistance 100% Leak-Proof Leakage-free Seal-less Pumps.
The History and Advantages of Magnetic Drive Sealless Pumps, History,
* Magnetic Drive Sealless Pumps have been around for a very long time. 
While it is hard to pinpoint exactly when Magnetic Drive Pumps were invented, the Technology has existed since the early 1900s; though the type of magnets originally used were of poor quality, meaning they had to be very large in order to transmit the required torque. Sometimes, instead of two magnets, one was used against a magnetic mass (a piece of iron, for example). This original arrangement required very large motors and was not really economically feasible. Later in the 1970s; with the use of rare earth magnets such as samarium cobalt, the magnets were much smaller and more efficient, leading to the units being more economically feasible.
Advantages,
* Magnetic Drive Pumps are 'Zero Emissions' Pumps. 
Magnetic Drive Pumps (short for a magnetic drive) do not require Mechanical Shaft Seals because they rely on a containment shell to form a liquid pressure boundary. In a Magnetic Drive Pump, the shaft from the motor is connected to an outer magnet carrier. Attached to the other part of the pump is a containment shroud, and inside of that containment vessel is another shaft – which is not the same as the shaft connected to the motor. This shaft inside the containment shell is connected to the impeller, and inside the shroud is another magnet. So the outer magnet in the carrier is connected to the motor, and when it spins, the magnetic forces go through the containment vessel to the inner magnet (which is attached to the shaft which is attached to impeller) to rotate the shaft.
* Sealless Pumps keep people and the environment safe. 
Sealless pumps typically transport hazardous materials that may sometimes be considered 'environmental contaminants', making Zero-Leakage Sealless Pumps critical for employee and environmental safety. While petrochemical plants and refineries in the World have been slow to adopt Canned Motor Pumps and Magnetic Drive Pumps, The establishment of API standard 685 has provided the assurances needed to motivate many to install these types of pumps into their Zero Emissions applications.