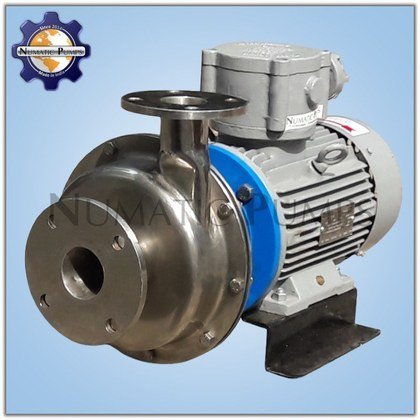 ● Max Flow – 115 Liter Per Minute
● Max Flow in Hours – 6900 Liter Per Hours
● Max Head – 11.5 Meter
● Standard Duty Point – 50 LPM at 7 Meter.
● Inlet/Outlet – 25mm x 25mm
● End Connection – Threaded Type
● Max Temperature – 120° C.
● Motor Capacity – 0.50 HP
● Motor Specification – 1Ph & 3Ph 2800 RPM 50Hz
● Amps & Watts – 0.76 / 373
● Casing, Back Plate & Impeller – Stainless Steel 316
● Stuffing Box & Shaft – Stainless Steel 316
● Sealing Arrangement – Sealless Pumps
1) All Prices are Excluding GST.
2) Transportation will be on To pay Basis.
1) What is a sealless pump, exactly?
2) What differentiates them from traditional sealed pumps?
We've put together this informative resource to help you understand these advanced fluid handling technologies…
A sealless pump is essentially a conventional centrifugal pump without packed glands or mechanical shaft seals. The dynamic seal that would normally be used to seal the impeller shaft is instead replaced by a static containment shell — or shroud — to form a completely sealed liquid end or pressure boundary.
In a Sealless Pumps, the shaft from the motor is connected to an outer magnet carrier. Attached to the other part of the pump is a containment shroud, and inside of that containment vessel is another shaft, Which is not the same as the shaft connected to the motor. This shaft inside the containment shell is connected to the impeller, and inside the shroud is another magnet. So the outer magnet in the carrier is connected to the motor, and when it spins, the magnetic forces go through the containment vessel to the inner magnet (which is attached to a shaft which is attached to impeller) to rotate the shaft.
We are Manufacturers, Suppliers, Wholesalers, Exporter of Sealless Pumps also called Magnetic Drive Pumps. We have captured whole Indian Market from Mumbai to Kolkata, Chennai to Delhi.