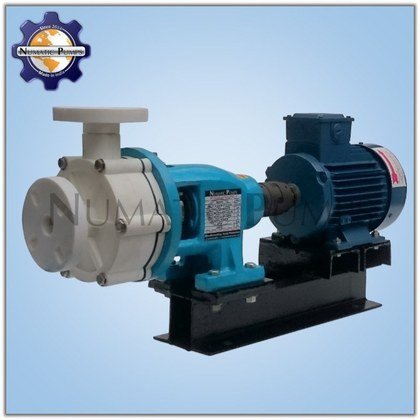 ● Max Flow – 200 Liter Per Minute
● Max Head – 13 Meter
● Capacity – 12 Cubic Meter
● Inlet/Outlet – 25mm x 25mm
● End Connection – Threaded Type
● Max Temperature – 70° C.
● Motor Capacity – 1 HP
● Motor Specification – 3 Phase 2800 RPM 50Hz
● Casing, Stuffing Box & Impeller – Polypropylene.
● Shaft – SS316 with Ceramic Sleeve
● Mechanical Seal – Teflon Bellow Seal
● Face – GFT / Ceramic.
1) All Prices are Excluding GST.
2) Transportation will be on To pay Basis.
3) Price for Bare Pump without Motor.
Polypropylene Coupled Pumps
We Manufacture Polypropylene Centrifugal Pumps. We Supply and Export Quality range of Polypropylene Centrifugal Pumps in every Gulf Countries. Our Pumps are for High Pressure and Flow rate for Acid, Salt and Corrosion Environment. These Pumps are used for Chemical Process and Chemical Circulation which have Acidic Properties where no other Metal Sustains.These Pumps are used in water treatment plants, dyes, chemicals, & petrochemical plants, fertilizer, textile processing, food & dairy industries, and oil & other fuels.
Polypropylene Centrifugal Pumps are not bulky hence, occupy minimum space for easy and comfortable handling. In addition, these are also offered at industry leading prices to all our customers thereby, making it frugal to purchase. We manufacture and export Polypropylene Pumps that are easy to use and economical. This type of PP pump gives an exceptional performance for scrubbing, corrosive, and hostile acid.
Modular construction, high interchangeability, fast delivery, versatile shaft sealing arrangement, gland packing as a standard arrangement and option to use a mechanical seal. Process type design results in minimum downtime. Back pull – out design enabling easier removal for inspection and maintenance. Closed impeller ensures high efficiency for a long period operation. Pump comes in 3 bearing resulting in continuous process work high productivity, bigger shaft and bearing size sturdy design. Polypropylene pumps have features like high performance and durable finish and hence, are widely demanded in the market for handling aggressive organic & inorganic fluids in the chemical & petrochemical industries.