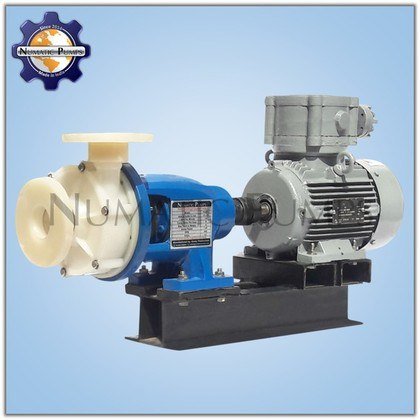 ● Max Flow – 150 Liter Per Minute
● Max Head – 10 Meter
● Capacity – 10 Cubic Meter
● Inlet/Outlet – 25mm x 32mm
● End Connection – Threaded Type
● Max Temperature – 100° C.
● Motor Capacity – 1 HP
● Motor Specification – 3 Phase 2800 RPM 50Hz
● Casing, Stuffing Box & Impeller – PVDF
● Shaft – SS316 with Ceramic Sleeve
● Mechanical Seal – Teflon Bellow Seal
● Face – GFT / Ceramic.
1) All Prices are Excluding GST.
2) Transportation will be on To pay Basis.
3) Price for Bare Pump without Motor.
We are engaged in Manufacturing and Supplying PVDF Centrifugal Pump. These Pumps are robust and energy-efficient and ensure noise & vibration-free performance. Appreciated for less maintenance, these are widely used in cement, textile, Acid, Corrosion, and Hazardous chemicals. These Pumps are Lifeline for organic and inorganic fluids, sugar and petrochemical and many other industries.
To fulfill the diverse requirements of these industries, we offer PVDF Centrifugal Pumps in various specifications. Further, these can be customized as per the requirements of clients in Stainless Steel, Polypropylene and PVDF Material. Our PVDF Centrifugal Pump is semi-open impeller type pumps, which require less floor space. Manufactured using the latest technology, these are durable and in accordance with set industry standards. With our rich industry experience, we trade, export and supply an extensive range of Polypropylene Centrifugal Pumps. At vendors' end, this pump is manufactured using quality assured components and progressive technology. It is a horizontal, single-stage, radially split volute casing pump of back-pull out type design.