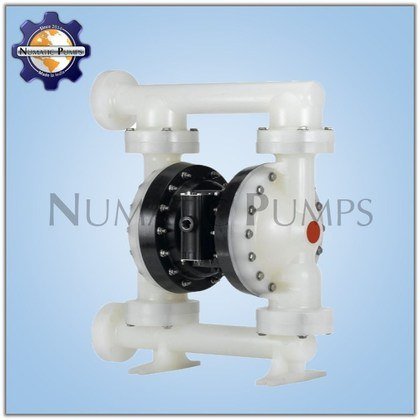 ● Model No – PPDP-2
● Max Flow – 350 Liter Per Minute
● Max Head – 60 Meter
● Discharge Pressure – 6 kg/cm2
● Inlet/Outlet – 2″ x 2"
● Air Inlet – ¾"
● Suction Lift – 6 Meter
● Diaphragm – Teflon
● Wetted Part – Polypropylene
1) All Prices are Excluding GST.
2) Transportation will be on To pay Basis.
Polypropylene AODD Pump moves fluid by the alternate and repeated back and forth movement of two flexible diaphragms mounted on a common shaft. Polypropylene Air Operated Double Diaphragm Pump is driven directly with the compressed air with a sophisticated distribution system. Compressed air is directing the two air chambers on the opposite sides of the Diaphragms. The shaft moves to the left, and the movement of the diaphragms increases the volume of pumping chamber A and, at the same time, reduces the volume of pumping chamber B and Vise Versa it repeats the movement from Chamber B to Chamber A. Valves on both side of the pumping chambers ensure that fluid flow through the pump in one direction from inlet to outlet.