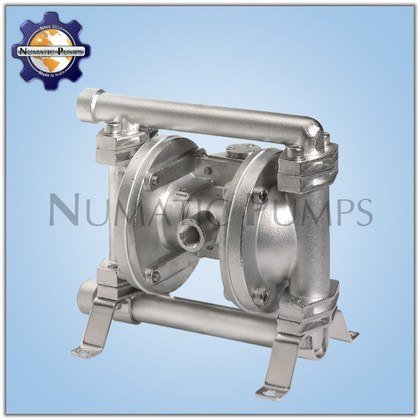 ● Model No – SSDP-0.5
● Max Flow – 36 Liter Per Minute
● Max Head – 50 Meter
● Discharge Pressure – 5 kg/cm2
● Inlet/Outlet – ½" x ½"
● Air Inlet – ¼"
● Suction Lift – 1.8 Meter
● Diaphragm – Teflon
● Wetted Part – Stainless Steel
1) All Prices are Excluding GST.
2) Transportation will be on To pay Basis.
Stainless Steel AODD Pumps
Numatic Pumps are a leading Supplier and Exporter Stainless Steel AODD Pumps, Besides in Metallic like SS316 AODD Pump, Aluminum AODD Pump; we have a total range in PP AODD Pump and PVDF AODD Pump. Our AODD Pumps range from ¼" to 3" connections and produce flow rates from 20 Liter / Minute up to 800 Liter / Minute. We can provide a total solution for any Liquid Acidic, Hazardous, Corrosive, Hygienic, Flammable, etc. Our AODD Pumps are Suitable for 10 Centipois to 2 Lakh Centipois Viscosity at Temperature up to 150 Degree Centigrade all under one roof. To simplify pump material selection, Numatic Pumps has a complete suite of product selectors now available on its website that assist in configuring Material of Construction, Choices of diaphragm and Inlet Outlet Sizes.