SS Monoblock Dairy Pump SSMD-3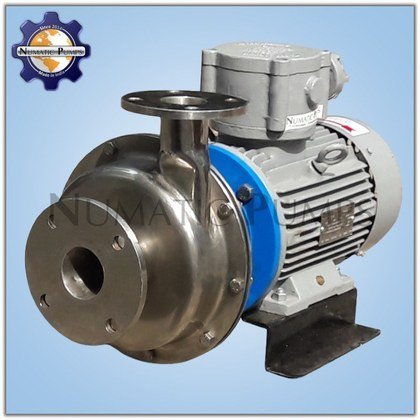 ● Max Flow – 400 Liter Per Minute (24000 LPH)
● Capacity – 24 Cubic Meter
● Max Head – 25 Meter
● Inlet/Outlet – 50mm x 38mm
● End Connection – Threaded Type
● Max Temperature – 120° C.
● Motor Capacity & Specification – 3 HP, 3 Phase, 2800 RPM, 50Hz
● Casing, Stuffing Box & Shaft – SS316 (Fine Grade Rolled Steel)
● Impeller – SS316 Semi open type
● Mechanical Seal – Single Spring Type
● Face – Silicon v/s Silicon
1) All Prices are Excluding GST.
2) Transportation will be on To pay Basis.
SS316 Milk Pasteurizer Process Pumps
We Manufacture SS316 Milk Pasteurizer Process Pump, which are also called juice transfer pump, milk transfer pump, sugar syrup transfer pump and syrup transfer pump, Sanitary Pump, Food Grade Pump, Beverage Pumps, Dairy Ice cream Pump, Pharmaceutical Chemical Pump. We are involved in offering a wide range of centrifugal Monoblock and Coupled pumps to our most valued clients. Our range of centrifugal pump is widely appreciated by our clients, which are situated all-round the nation. We manufacture highly efficient Milk process Pumps in different powers such as 1 hp, 2 hp and 3 hp, 5 HP up to 20 HP as per the specifications received by our eminent customers. Stainless Steel 316 Milk Transfer Pumps are horizontal single end suction standardized back pull out process pump. Our process pumps are single piece, self-venting radically split volute casing with vortex discharge, close redial impellers have back vanes for hydraulic balancing & reducing stuffing box pressure. Dry shaft construction preventing liquid contact with shaft.