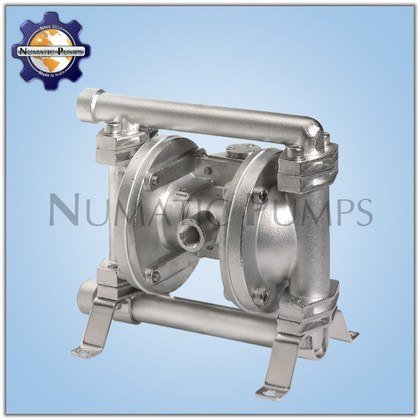 ● Model No – SSDP-2
● Max Flow – 350 Liter Per Minute
● Max Head – 60 Meter
● Discharge Pressure – 6 kg/cm2
● Inlet/Outlet – 2″ x 2"
● Air Inlet – ¾"
● Suction Lift – 6 Meter
● Diaphragm – Teflon
● Wetted Part – Stainless Steel
1) All Prices are Excluding GST.
2) Transportation will be on To pay Basis.
SS AODD Pumps are of a bolted type and offer a number of advantages that make them perfect for an almost endless variety of uses. Stainless Steel AODD Pumps are air operated; thus can be used in hazardous and flammable materials. AODD Pumps can easily and efficiently handle any Viscosity from water to 1 Lakh CPS. AODD Pumps offer the ability to Control flow and discharge pressure up 6 Bars with a simple adjustment air Pressure. AODD pump can be used for numerous applications, eliminating the need for expensive Motor-Driven and critical sizing calculations. AODD Pumps can pass even large, shear-sensitive solids without degradation or heat buildup transferred to pumped media. AODD Pumps are able to run dry without damage to the pump.
Main Benefits of AODD Pumps
Self Priming
Easy to maintain
Dry Run Without Damage
Variable speed
Flameproof
Sealless