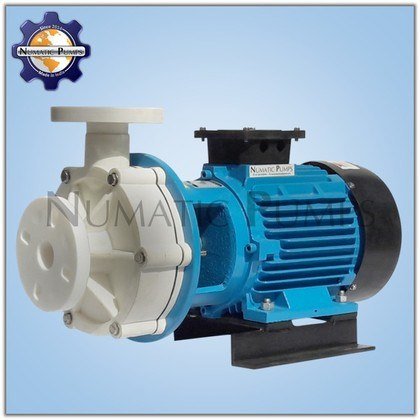 ● Max Flow – 400 Liter Per Minute
● Max Flow in Hours – 24000 Liter Per Hours
● Max Head – 24 Meter
● Capacity – 24 Cubic Meter
● Inlet/Outlet – 40mm x 40mm
● End Connection – Threaded Type
● Max Temperature – 100° C.
● Motor Capacity – 3 HP
● Motor Specification – 3 Phase 2800 RPM 50Hz
● Casing, Stuffing Box & Impeller – PVDF
● Shaft – SS316 with Ceramic Sleeve
● Mechanical Seal – Teflon Bellow Multi Spring Seal
● Face – Metalic Carbon Vs Ceramic
1) All Prices are Excluding GST.
2) Transportation will be on To pay Basis.
PVDF Monoblock Pump is a Horizontal Monotype Compact Process Pump. PVDF Lined Pumps Monoblock series process Pumps are supplied with Mechanical Shaft Seal / Gland Packing arrangement covering 85% of the chemical Industries requirement. The pumps are manufactured from PVDF Polyvinylidene Fluoride Chemically inert thermoplastic by the use of an exclusive moulding process. We even have a complete range of PVDF Lined Pump in Monoblock Type and Closed Coupled Types. These pumps give you unusual protection against highly Corrosive Chemicals. The solidly moulded casing and impeller ensure a smooth running pump for long life and a minimum of wear. All pumps, shafts are fitted with sleeves of different materials compatible with the liquid handled.
Size available to handle flow from 1 m3 to 100 m3 per hour.
Allows high working temperature up-to 70 Degree Celsius.
Designed to strictly restrict any chemical absorption into the interior section, hence allows changeover of chemicals without contamination, just by flushing the pump properly.
Can be used for continuous or intermittent service.
Less costly, yet can handle a wider range of chemicals than any special alloy pumps.
All metal parts are protected with chemical grade epoxy coating.
Choice of threaded or flanged fittings available.