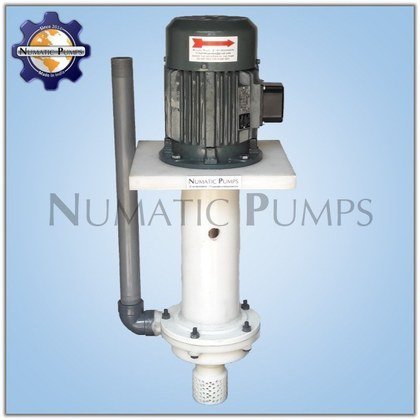 ● Max Flow – 633 Liter Per Minute (38000 LPH)
● Max Head – 26 Meter
● Capacity – 38 Cubic Meter
● Inlet/Outlet – 75mm x 40mm
● Impeller – Semi Open Type
● Pump Supporter – 10" x 10"
● Max Temperature – 70° C.
● Motor Capacity – 5 HP
● Motor Specification – 3 Phase 2800 RPM 50Hz
● Body, Casing & Impeller – Polypropylene.
● Shaft – SS316 (Ceramic Sleeves Optional)
1) All Prices are Excluding GST.
2) Transportation will be on To pay Basis.
Polypropylene Vertical Pump
Numatic Pumps are leading manufacturer of Polypropylene Vertical Pump also Known as Vertical Sump Pump or Long Shaft Pump Sealless Pumps.
Polypropylene Vertical Pump are Seal less and self primed pumps as the Impeller is located at the bottom of the pumps and does not require Mechanical seal. PP Vertical pumps are mostly used in ETP Plants and Scrubbers and where leakages cause big problem. This pump does not have any mechanical seal agreements hence are very cost effective and less headache of maintenance.