Aluminium AODD Pump ALDP-2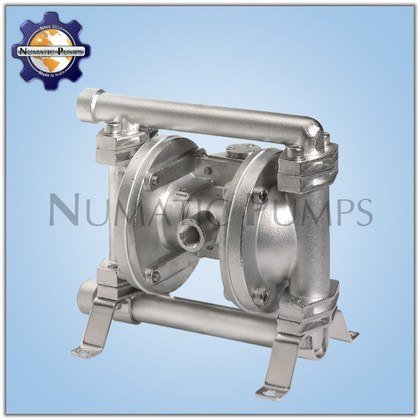 ● Model No – ALDP-2
● Max Flow – 350 Liter Per Minute
● Max Head – 60 Meter
● Discharge Pressure – 6 kg/cm2
● Inlet/Outlet – 2″ x 2"
● Air Inlet – ¾"
● Suction Lift – 6 Meter
● Diaphragm – Teflon
● Wetted Part – Aluminium
1) All Prices are Excluding GST.
2) Transportation will be on To pay Basis.
Air Operated Diaphragm Pumps
Air Operated Double Diaphragm Pumps are most common Pumps used in all Industries. From Petrochemical, Food, Pharmaceuticals, Explosive, Flammable, and Beverage, These AODD Pumps are popular and versatile. Their unique design is ideal for transferring Low to Medium and Highly abrasive and viscous products.
How do AODD Pumps work?
An AODD pump is a type of positive displacement Pump that uses compressed air as a power source. The compressed air is pumped with the help of compressor from one chamber to the other by a linked shaft that allows the chambers to move simultaneously. This back and forth motion forces liquid out of one chamber and into the discharge piping while the other chamber is being filled with liquid at the same time.