SS Pneumatic Screw Barrel Pump - SSPSBL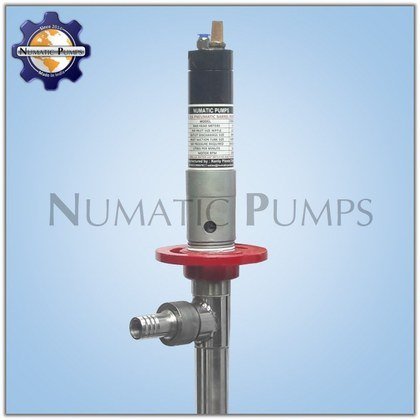 Suction Tube and Screw – Stainless Steel 316
Air Motor Capacity – 23000 RPM
Air Pressure Required – 6 KG Bar
Max Flow – 50 Liter Per Minute
Shut of Head – 8 Meter Head.
Pump Length – 1000 mm
Air Inlet Size – 3/8" Nozzle
Inlet & Outlet – Discharge 20mm & Suction 44mm
Suitable for – 200 – 210 Ltr Barrel / 50 Ltrs cans
Viscosity can Operate from – 750 CPS
Max Temperature – 100° C
Suitable Media – Thick Materials like Juice, Fevicol , Honey, Paint etc.
1) All Prices are Excluding GST.
2) Transportation will be on To pay Basis.
SS Pneumatic Screw Barrel Pump SSPSBL
SS Pneumatic Screw Barrel Pump is used primarily to pump fluids from Barrel, Drum or IBC Containers. SS316 Pneumatic Screw Barrel Pump is used to transfer all low-viscous, medium-viscous, high-viscous liquids from Drums and Containers. Depending on the medium used, our customers or our sales representatives can choose between four different pump tube materials when selecting a drum pump: PP (Polypropylene), PVDF, PTFE, Stainless Steel, or Mild Steel. The exact medium, the application temperature, and the environment are decisive for the selection of the appropriate pump material. Air Operated Screw Barrel Pump made of Stainless Steel 316 can be used for nearly all standard Chemicals, Solvents, Medicine and Food Industries up to a temperature of 100°C. In the Petroleum sector as well as in the Automotive industry, SS Pneumatic Screw Barrel Pump is mainly required for pumping Low to High Viscosity Grease, Crude Oil, Custer Oil, Heating oil, Hydraulic oil, Machine oil, Mineral oils, and Motor oil, etc.