SS Motorised Screw Barrel Pumps - SSMSB-1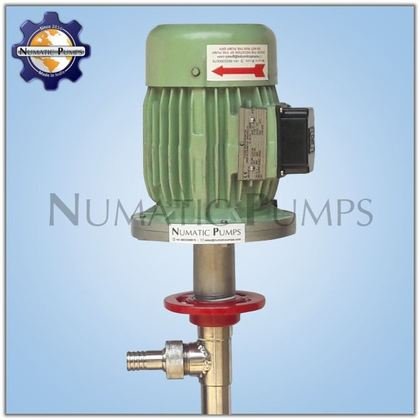 Suction Tube and Screw – Stainless Steel 316
Electrical Motor's – 1 HP, 6000 RPM, 1 Phase

Max Flow LPM – 50 Liter Per Minute

Shut of Head – 10 Meter

Pump Length – 1000 mm
Inlet & Outlet – Discharge 25mm & Suction 44mm
Suitable for – 200 – 210 ltr Barrel / 50 ltrs cans
Max. Viscosity can Operate – 750 cps
Max. Gravity can Operate – 1.8
Max Temperature – 100° C
Suitable Media – Thick Materials like Juice, Fevicol , Honey, Paint etc. (having low viscosity)
1) All Prices are Excluding GST.
2) Transportation will be on To pay Basis.
SS Motorised Screw Barrel Pumps
SS Motorised Screw Barrel Pumps are vertical type Screw Pumps sized to fit into the bungholes of Barrels. SS 316 Motorised Screw Barrel Pumps have a portable design and very useful for pumping out high viscous material from Barrels. Stainless Steel Motorised Screw Barrel Pumps are available with Air or Electric motors. SS Motorised Screw Barrel Pumps can be used for transfer High Viscosity Media Like Pastes, Tomato Paste, Ketchup, Srikhand, Adhesives, Glucose, Petroleum Jelly, other Jellies, Cosmetics, Shampoos, Creams, Paste and many such High and Low Viscous Materials. Screw Barrel Pumps are especially useful in the Food Industry, Beverage Industry and Pharma industry as they prevent contamination from the environment during transfer as also due to manual handling of the material. Motorised Barrel Screw Pumps are also known as paste transfer Pumps or High viscous Barrel Pumps.