SS Motorised Screw Barrel Pumps - SSMSBHV-1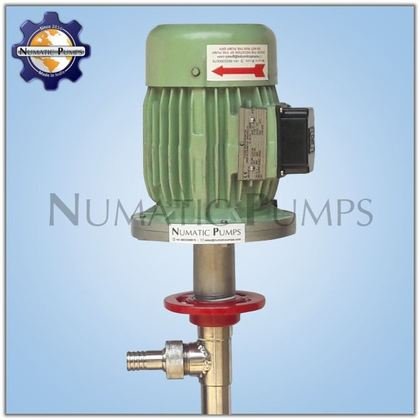 Suction Tube and Screw – Stainless Steel 316
Electrical Motor's – 1 HP, 950 RPM, 3 Phase

Max Flow LPM – 35 Liter Per Minute

Shut of Head – 13 Meter

Pump Length – 1000 mm
Inlet & Outlet – Discharge 25mm & Suction 44mm
Suitable for – 200 – 210 ltr Barrel / 50 ltrs cans
Max. Viscosity can Operate – 750 cps
Max. Gravity can Operate – 1.8
Max Temperature – 100° C
Suitable Media – Thick Materials like Wax, Sludge, Crude Oil, Liquid Soaps, Plastic Solutions, Synthetic Resin, Glue, Syrups, Liquid Chocolate, Glycerin etc.
1) All Prices are Excluding GST.
2) Transportation will be on To pay Basis.
SS Motorised Screw Barrel Pump
SS Electrical Screw Barrel Emptying Pumps are mainly used when the Viscosity of the liquid to be pumped is higher than 700 Centipois or if high pressures are required. The High Viscous Motorised Screw Barrel Pumps are all Manufactured in Stainless Steel 316 but the rotor casing can be supplied in various materials, depending on the liquids that need to be pumped. The standard pump length is 1000 mm but can be Customised as per client demand. The maximum speed depends on the viscosity of the liquids that need to be pumped. The higher the viscosity, the slower the speed will be. The SS High Viscosity Motorised Screw Barrel Pump, therefore, can be produced with various drives both Electric Motor Driven or Pneumatic, Compressed air driven.