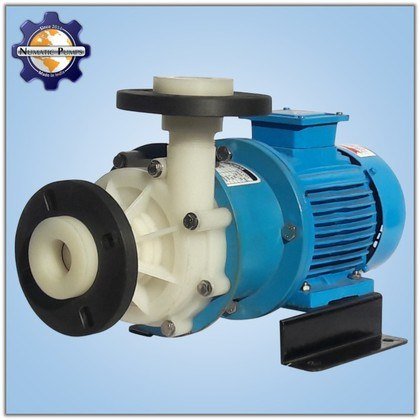 ● Max Flow – 650 Liter Per Minute
● Max Flow in Hours – 39000 Liter Per Hours
● Max Head – 34 Meter
● Pressure KG/CM2 – 5.00
● Inlet / Outlet – 64mm x 51mm
● End Connection – Threaded Type
● Max Temperature – 100° C.
● Motor Capacity – 5.00 HP
● Motor Specification – 3 Phase 2800 RPM 50Hz
● Amps & Watts – 15.50 / 3728
● Casing, Back Plate & Impeller – PVDF
● Shaft – Hastelloy
● Sealing Arrangement – Sealless Pumps
1) All Prices are Excluding GST.
2) Transportation will be on To pay Basis.
PVDF Magnetic Drive Pumps
Numatic Pumps is a leading manufacturer of PVDF Non Corrosive Acid Pumps for handling various corrosive and hazardous liquids. The company has acquired a huge market in Steel industry, Pharmaceuticals Industries, Electroplating Industries, and Refineries etc. PVDF Non Corrosive Acid Pumps can handle any Corrosive and Acidic media and resists to most chemicals and solvents at a temperature of 120̊ C. PVDF offers a high degree of crystallinity to the other process, which results in superior thermo-mechanical properties.
PVDF Pumps back plate and casing are made from solid injection molded Polyvinylidene fluoride (PVDF) material, which is also called Industrial Plastic. The impeller are semi-open type with metal insert with PVDF layers, which has a great mechanical strength and provided long life of service. Bearing Pedestal includes a rigid shaft of high strength Stainless Steel EN-8 / EN-19 / EN-24 / EN-41 and a double row ball bearing with extremely high load capacity. Envelope gasket provided is of (PTFE) Teflon with Viton rubber insert to ensure maximum sealing.