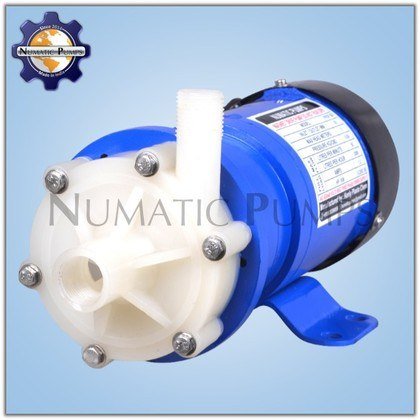 ● Max Flow – 50 Liter Per Minute
● Max Flow in Hours – 3000 Liter Per Hours
● Max Head – 5.5 Meter
● Pressure KG/CM2 – 0.60
● Inlet / Outlet – 18mm x 18mm
● End Connection – Threaded Type
● Max Temperature – 100° C.
● Motor Capacity – 0.25 HP
● Motor Specification – 1Phase 2800 RPM 50Hz
● Amps & Watts – 0.50 / 105
● Casing, Back Plate & Impeller – PVDF
● Shaft – Ceramic
● Sealing Arrangement – Sealless Pumps
1) All Prices are Excluding GST.
2) Transportation will be on To pay Basis.
PVDF Corrosion & Chemical Resistance Centrifugal Pumps
PVDF Magnetic drive pumps have a particular seal-less design that is suitable to pump corrosive and dangerous liquids. The structure is simple so the pump requires a very reduced maintenance with consequent save in terms of repairing and spare parts costs during the pump life. The external magnet placed on the drive shaft transmits the motion to the internal magnet connected to the impeller, which rotates and moves the fluid through the pump.
PVDF Corrosion resistant chemical centrifugal pumps series are made of thermoplastic materials PVDF (Polyvinylidene fluoride) and are suitable for high corrosive liquids and high Temperature. Thanks to the innovative Magnetic Drive system, reduce the risks of losses and the maintenance costs. The transmission of the motion occurs through magnetic joints without using mechanical shaft seals. This guarantees the maximum safety and efficiency.