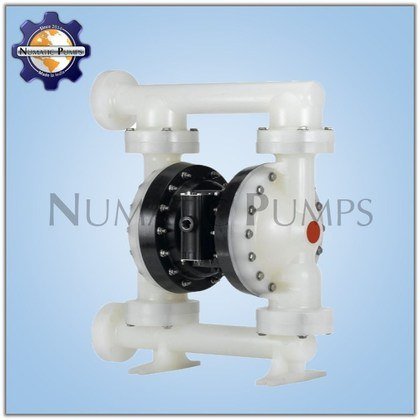 ● Model No – PPDP-1
● Max Flow – 110 Liter Per Minute
● Max Head – 60 Meter
● Discharge Pressure – 6 kg/cm2
● Inlet/Outlet – 1″ x 1"
● Air Inlet – ⅜"
● Suction Lift – 4.8 Meter
● Diaphragm – Teflon
● Wetted Part – Polypropylene
1) All Prices are Excluding GST.
2) Transportation will be on To pay Basis.
PP Air Operated Double Diaphragm Pump
Air-Operated Double-Diaphragm Pump is a type of positive displacement pump. It consists of two pumping chambers that are alternately filled and discharged by the movement of flexible Rubber or Teflon Diaphragms. Compressed air is alternately filled and removed from air chambers on the opposite sides of the diaphragms to create the pumping action. Polypropylene AODD Pumps are generally used for transfer applications and can handle a wide variety of feeds including Hazardous, Acidic, and Flammable, Sludge's, Slurries, Abrasive and Shear Sensitive liquids. PP Air Operated Double Diaphragm Pump is Low Maintenance, Easy to use, can handle any Viscosity, Self-Priming, Continuous Operation, Flow Controllable and many other Benefits Compared to any Other Barrel or Centrifugal Coupled Pumps.