SS Self Priming Centrifugal Pump SSCS-1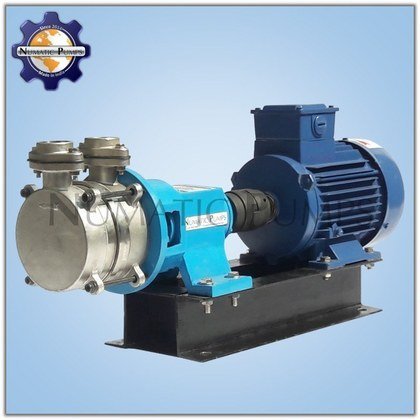 ● Max Flow – 54 Liter Per Minute
● Max Head – 40 Meter
● Capacity – 3.2 Cubic Meter
● Inlet/Outlet – 25mm x 25mm
● End Connection – Threaded Type
● Max Temperature – 90° C.
● Motor Capacity – 1 HP
● Motor Specification – 1 or 3 Phase 2800 RPM 50Hz
● Casing, Stuffing Box & Shaft – SS316
● Impeller – SS316 Semi open type
● Mechanical Seal Type – Single Spring Seal
● Face – Silicon v/s Silicon
1) All Prices are Excluding GST.
2) Transportation will be on To pay Basis.
3) Price for Bare Pump without Motor.
4) Maximum Negative suction upto 3 meters.
SS Self Priming Centrifugal Pump
Self Priming Pump is used where there is negative suction. SS316 Self Priming Pump is used in variety of applications like Water circulation systems, Sea Water application, Food processing industries, Pharmaceutical industry, Boiler circulation system, Mineral water plant etc. Stainless steel centrifugal self priming pumps are made with SS316 construction and used for compatible liquids in various applications where SS construction and self-priming is required. Pumps wetted parts are of stainless steel (SS316) and widely used in chemical and process industries. As these pump is fabricated from Rolled sheet steel, it is also widely used in dairy, food and beverages industries, wine, RO and DM plant, Sea Water applications.
These pumps are available from 0.5 HP & 1 HP, in Monoblock and Coupled Type. Head up to 60 meter and capacity up to 60 LPM. The unique feature is international quality at affordable price with minimum delivery period.