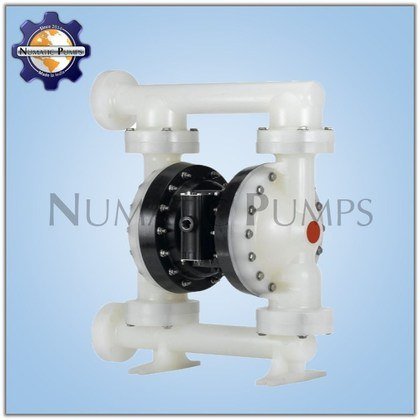 ● Model No – PPDP-1.5
● Max Flow – 165 Liter Per Minute
● Max Head – 60 Meter
● Discharge Pressure – 6 kg/cm2
● Inlet/Outlet – 1 ½" x 1 ½"
● Air Inlet – ½"
● Suction Lift – 5.5 Meter
● Diaphragm – Teflon
● Wetted Part – Polypropylene
1) All Prices are Excluding GST.
2) Transportation will be on To pay Basis.
What are the benefits of using AODD Pump?
AODD Pump has a very useful feature to have the capability to run dry when the pumping application may result in varying & inconsistent suction conditions.
AODD Pump doesn't have to prime like other centrifugal Pump, AODD Pump can be used as a sump pump where positive suction conditions are not available.
The ball & seat / check-valve design also allows passing solid particles in Air Operated Double Diaphragm Pump
Diaphragm Pumps are simple, non-technical & non mechanical require no specialist training for maintenance.
The air valve is designed to be anti-stalling & anti-freezing and thus allows the AODD pump to be Operate Continuously.