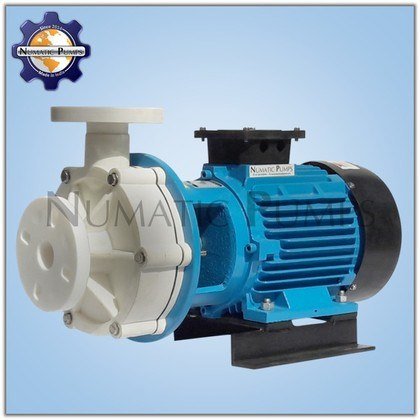 ● Max Flow – 300 Liter Per Minute
● Max Flow in Hours – 18000 Liter Per Hours
● Max Head – 16 Meter
● Capacity – 18 Cubic Meter
● Inlet/Outlet – 32mm x 32mm
● End Connection – Threaded Type
● Max Temperature – 100° C.
● Motor Capacity – 2 HP
● Motor Specification – 3 Phase 2800 RPM 50Hz
● Casing, Stuffing Box & Impeller – PVDF
● Shaft – SS316 with Ceramic Sleeve
● Mechanical Seal – Teflon Bellow Multi Spring Seal
● Face – Metalic Carbon Vs Ceramic
1) All Prices are Excluding GST.
2) Transportation will be on To pay Basis.
PVDF Monoblock Acid Transfer Pumps Series are Horizontal Centrifugal Compact type Acid Process Pumps with Mechanical Seal. Highly reliable and sturdy design Pumps for handling Corrosive Liquids. Better efficiency due to computer-aided design of Volute casing, Impeller etc. Resulting in lower power consumption and smoother operation. Heavy duty bearing box and heavy duty shaft ensure longer life of the pump.
Pumps are available with Teflon Bellow type Mechanical Seal with GFT v/s Ceramic face combination or with pure Teflon gland packing with High Alumina Ceramic or SS 316 shaft sleeve.
These pumps are ideally suitable for handling Corrosive Acid and Chemicals, Acidic Water with mild impurities, Pickling Plant Acid Chemicals, Effluents and Boiler Descaling Acid and Chemicals, alkalis solvents & highly erosive, corrosive chemicals with & without abrasive slurries.
These PVDF Monoblock Pumps have proven their performance in various kind of applications since last 5 Years and are running very successful in Steel Pickling & acid Regulation Plants. These pumps also have very successful in various critical services.